Science & Origin of Peanut Obsidian
Peanut Obsidian is a variety of Perlite and a naturally occurring amorphous volcanic glass with high water content. The red spheres which make this crystal so unique are actually feldspar crystals. These have been stained red over time by a coating of Hematite. It was discovered in Alamos, Sonora, Mexico by Alberto Maas. The name of this new material was supposed to be "Almasite", but upon further investigation, that name was already claimed for another mineral. Interestingly, no other deposit of this mineral has been discovered. Much of the available inventory on the market is being hoarded by American and Mexican jewelers.
Meaning & Energy
Peanut Obsidian offers up mysterious energies, some of which can help one better connect to Mother Earth. The grounding vibrations help root one down to this physical realm, while also allowing their consciousness to expand and grow. The feldspar and Hematite within this mineral help activate one's creative thinking, as well as engage your personal will. We recommend trying this stone during your next meditation session while placing it over your belly. This will help increase the relationship between your lower three chakras, while enhancing their energies. This trifecta develops a channel that will allow one to easily express themselves thus allowing their second brain (the stomach) to be fully engaged. This area houses some of the most potent energies that our body possesses; specifically our artistic, intuitive, and imaginative capabilities. These attributes help distinguish you from everyone else, proving just how special and unique you truly are.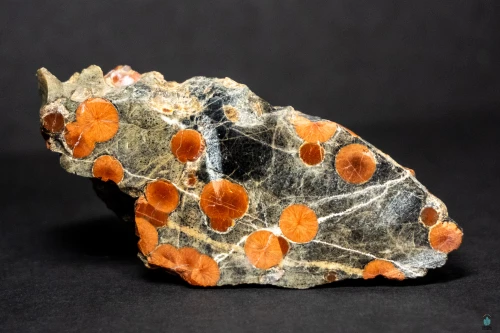 Stone Pairings
Try meditating with a higher-tiered stone such as Cavansite, , Iolite, Blue Kyanite, K2, Covellite , or Blue Aventurine. All these minerals have energies capable of helping one truly ascend and open up channels to higher realms, dimensions, and deities. The willpower and imaginative energies that one is capable of unlocking with Peanut Obsidian, and any stone above, can help propel one forward during deep meditation. Lastly, do not forget to cleanse your stones. Our favorite ways are through white sage, Palo Santo smoke, or by placing them underneath the full moon to release negativity while capturing lunar energy.